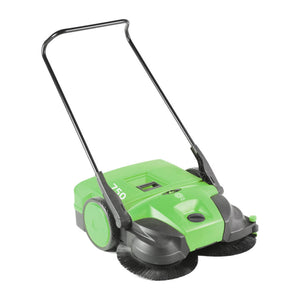 Sweeper 750E
For more information download 750 sweeper brochure here.
If you have any questions or queries please contact us here. 
DESCRIPTION
The 750 is a walk behind sweeper is designed by IPC for cleaning small to medium spaces. Recommended for both indoor and outdoor use, it is ideal for facilities such as workshops and small to medium sized car parks.
Thanks to its compact and functional design and its large capacity container, it easily removes debris such as leaves and bottles even in tight spaces.
KEY FEATURES
Patented garbage system
Large 25 l tank easy to empty
Height-adjustable brush
Battery